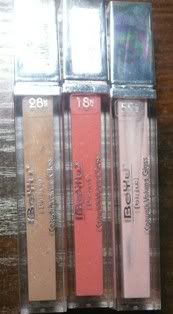 It's love and hate with these lip glosses:
Many great things about it:
These lip glosses are sooo creamy and feels very nice on my lips. They are pretty moisturizing so even if I have horribly chapped lips this is my most used lip stuff.
They have a brush applicator! And the brush applicator is a big plus for me in lip glosses because I find them easier to work with.
These glosses stay on rather long, maybe two to three hours, but I mean, hey, it's lip gloss, it's n
ot supposed to stay very long :)
It looks like my lips look kind of plumped with these. They don't have any tingling sensation or anything like that but I guess the micro sparkles makes lips look fuller. You can't really see any sparkles because they are super super tiny, but when it's on lips it gives multidimensional wet look.
Since I don't really wear bold lips, colors are pigmented for me just enough.
My most worn color is very light pink (Number 52), it gives my lips nude milky pink look, witch I love.
The brownish nude color (Number 28) is not that brown actually. It's nude but it's not opaque and does not wash out my pale skin. I can use it with whatever make up I'm wearing that day, and I only use very nude lip color only if I'm going ou
t and making dark eye make up.
And the pretty coral pink is a perfect spring color and makes my complexion looks healthier. Well yes, I would have to wait till spring alot to use it, but I use it now also if I want some warmth on my face.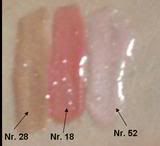 One minus:The packaging is very crappy. I mean, yes it looks very sleek and nice, but lip gloss leaks over the top. I clean it every time I can, but it still does it. I hoped that it just the one I bought, but then I purchased another two and they do the same thing. And it's not very nice to have a lip gloss everywhere.Look at all that: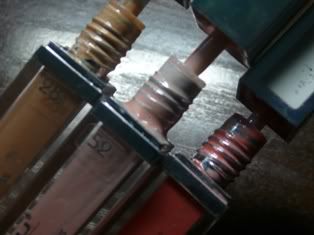 It's not that I'm complaining, but when you close the lid, it leaks over and makes a huge mess. The light pink one is the worst and the other two I could handle, but since that color is my favorite it makes me very agree. So I'm confused because I was considering on repurchasing those. And well, I' guess I'll actually will ,at least that lovely nude pink :)
UPDATE: I will never buy these again, I'm trying to finish those as fast as I can, because my beloved pink color spilled all over my new make up bag and that made me too angry to buy them again!