First of all, I have to say, I love Christmas... It's my favorite holiday, so I'm starting to prepare for them like two months before- I start to collect presents for people I love :)I love everything that are usually at the Christmas time, especially those moments when I can be with my family and just have fun, without having to rush anywhere... I love when home is full of smell from cooking dishes, tangerine fruits, hot spiced wine... These are holidays when you forget the bad and give smiles for everybody even if you are so tired from work you've been doing. You try to make everyone you love happy so they would feel the Christmas spirit too... I have to admit that there are few people that I couldn't live without, but at Christmas time they reminds you that they love you too :)
Let's get to the fun part :)) I got some presents for Christmas that I wished for a long time... Yay for my beloved friends who still listens for what I say :))))
I fina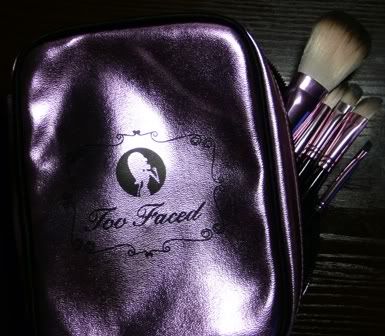 lly got my oh so wanted Too Faced "Teddy Bear Hair" brush set. I wished it since last Christmas, but it's kind of pricey, so I was waiting for some discount for it but that never happened... And yesterday I got it from two my beloved people (and yes I was almost jumping from happiness!). So first thing what I've done is I washed them and let it dry, and today I did my make up with them... Yes, I'm in love :)) They are damn so soft and dense.. And well.. They look so pretty!!! I also like the case brushes comes with. Firstly it's pink, so it's awesome :)) Secondly, it will be very handy to take to the trip or for overnight. There are some extra spaces for other brushes in case you need something else and a little attachable bag, where you can put some make up.
I also got two Stila palettes, and I'm falling in love with Stila more and
mor
e!
I got Stila's "The red carpet look" kit, witch comes with 3 eyeshadow palette (it looks very sleek, like a litte purse), 1 travel sized kajal eye liner in "Onyx" (wow, I was amazed how creamy it is) and a flower accessory (I haven't figured out what to do with that, but it's still very
nice and pretty addition to the kit).
It doesn't say eyeshadow names on the packagi
ng only that there are matte eye shadow- base, shimmer eye shad
ow- lid and shimm
er eye shadow- liner. I love liner one the most, it's so richly pigmented and pretty... I might also be a great crease color.
And the matte base color will be great as a highlighter too.
Second Stila palette is named "Smoky eye the talking palette". It
has four
shades that are marked as base, lid, crease and liner. The crease and liner ones are matte and other ones are shimmery. The shadow pans looks much smaller than regular Stila eye shadows, but it looks like it's more thick. As the palette name says, it does talk, you just need to press the butt
on. Mine does speak in three languages, one of them is English. The talking in the palette is not that necessary, but it's still an interesting idea. It says how to apply eye shadows and wh
at brushes to use
.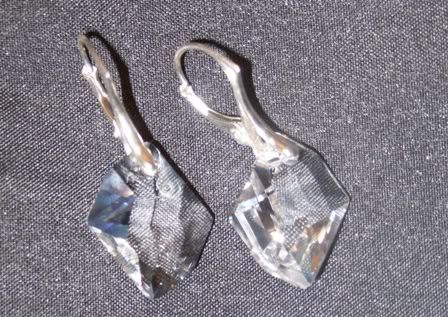 Another very special gift I got was from my best friend. She made me earrings with Swarovski crystals and I love them. I love the idea that she made it herself and I also love how they look like- they are simple enough to wear everyday, but still very elegant and shiny. And the color is clear so it will be suitable with any outfit. She has all her peaces that she made here:
http://www.flickr.com/photos/littlecreations/
Saddly I could not take a good enaugh picture to show how pretty they are...
I also found some bath and body products under the Christmas tree. My sister gave me Victoria's Secret ultra softening body butter called "Love spell" and the smell is just divine... I used that today and my skin smells amazing. My mom gave me some natural bath oil and salt, so I could relax after long working hours and the smell is actually pretty good too. So I'm planing to go and enjoy that right now :)
I hope everyone are happy on Christmas :)